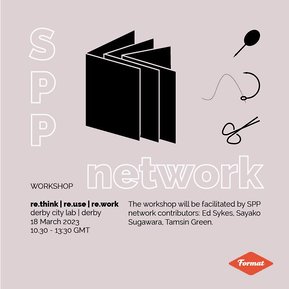 re.think | re.use | re.work
18 March 2023 - 10:30 - 13:30 GMT
Derby City Lab, Derby
This workshop will involve the collaborative development of photobooks using re-purposed materials. Each participant will bring something they have discarded as part of their own photography process, for example: images, materials, test prints, text. The workshop will be facilitated by SPP network contributors: Ed Sykes, Sayako Sugawara, Tamsin Green.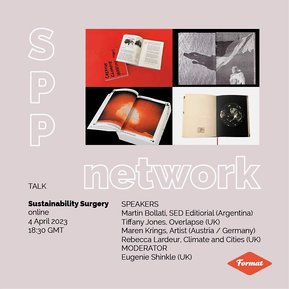 SPP Sustainability Surgery
4 April 2023 - 6.30pm GMT
online
This event brings together exhibitors from The Sustainable Photobook exhibition at FORMAT23 to answer topical questions on sustainable design and production. The speakers; Tiffany Jones, Overlapse (UK); Martin Bollati, SED Editiorial (Argentina); Maren Krings, Artist (Austria / Germany); Rebecca Lardeur, Climate and Cities (UK) will be joined by Eugenie Shinkle who will moderate the discussion.