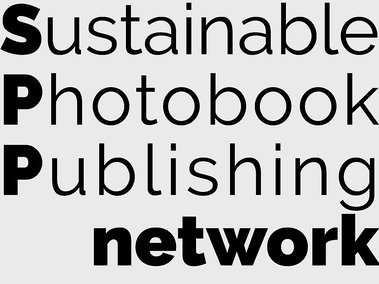 The Sustainable Photobook Publishing (SPP) network is a group of photographers, publishers, academics and writers who discuss and share knowledge on issues around environmentally conscious approaches to photobook publishing in printed form. All of us have different starting points and ideas of what constitutes a sustainable practice. Through ongoing conversations, we spark new ways of thinking, and develop resources that support and actively encourage individual practitioners in their search for a more environmentally conscious approach to photobook publishing.

Our values and approach
Working together - valuing cultural diversity, autonomy, transparency, accountability, and mutual trust
De-mystifying materials and processes - shedding light on supply chains and making processes
Creating a safe space for discussion - encouraging broad reaching, reflective, critical and open ended conversations
Identifying and discussing the challenges - encouraging the sharing of lessons learned, and opportunities for change
Increasing access to knowledge - developing open source resources for anyone and everyone to access
Inspiring creative approaches - uncovering and sharing examples of sustainable practices
Building networks - connecting local, national and international networks
The network was formed in 2021 by Tamsin Green.
CONTRIBUTORS: Alfredo Blasquez, Amelie Schuele, Ania Ready, Bella Okuya, Catriona Gourlay, Daria Tuminas, David O'Mara, Dolly Meieran, Ed Sykes, Eliza Kavanagh, Emily Macaulay, Emma Lambert, Eugenie Shinkle, Eva Voutsaki, Gavan Goulder, Gin Rimmington Jones, Gisela Torres, Hannah Fletcher, Harry Gammer-Flitcroft, Iana Mizguina, Jake Green, James Newton, João Pedro Lima, Jennifer Reeves, Jesse Alexander, John Angerson, Julie Sleaford, Lewis Chaplin, Magdalena Wysocka, Marc Fischer, Maren Krings, Mark Phillips, Martin Bollati, Martin Usbourne, Mathieu Asselin, Matt Ford, Nishant Shukla, Oliver Raymond-Barker, Paul Hewitt, Paul John, Rachel Arthur, Rebecca Lardeur, Ricardo Báez, Roelof Bakker, Ryan Paradiso, Sandra Davison, Sarah Boris, Sayako Sugawara, Sergio Valenzuela Escobedo, Stewart Hardie, Tamsin Green, Tiffany Jones, Tim Clark, Victoria Forrest, Wendy Aldiss
If you would like to join the network mailing list or just get in touch about sustainability please drop us a message here.
How many books are being made? Does the printer have eco certifications? (B Corp, EMAS, FSC) And what do these mean? What chemicals are used in the printing process? Are plant and/ or water based inks available? What is the paper made of? Are these materials sustainably sourced? What is the paper size? Can the book size be optimised to minimise waste? Are there plant based glues available? What is the intended design life of the book? Are the materials recyclable? Can the paper be de-inked for recycling? If plates are used in the printing process, can they be recycled/ re-used? Can the use of single-use plastic be minimised or avoided?