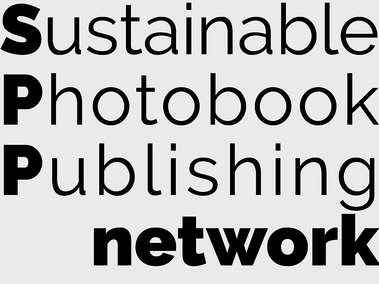 Sustainable Photobook Publishing (SPP) network
An open group of photographers, publishers, academics and writers who discuss and share knowledge on issues around environmentally conscious approaches to photobook publishing.

Over the past year we have worked on four initiatives; the assembly of a local resource list of papers, printers and packaging; case studies of books detailing materials and processes used and highlighting lessons learned; a monthly meet-up with invited speakers, including printers, paper suppliers and a carbon calculator developer; and an Earth Day international panel discussion, co-organised with 10x10 Photobooks. All of these resources are open source and the links can be found below.
We also have a Slack workspace where members of the network can chat and share information.
If you would like to join the network or just get in touch about sustainability please drop us a message here.
CONTRIBUTORS: Amelie Schuele, Bella Okuya, Catriona Gourlay, Daria Tuminas, Dolly Meieran, Ed Sykes, Eliza Kavanagh, Emily Macaulay, Emma Lambert, Eugenie Shinkle, Gavan Goulder, Gin Rimmington Jones, Gisela Torres, Hannah Fletcher, Iana Mizguina, Jake Green, Jennifer Reeves, John Angerson, Lewis Chaplin, Mark Phillips, Matt Ford, Nishant Shukla, Paul Hewitt, Paul John, Oliver Raymond-Barker, Rachel Arthur, Roelof Bakker, Sandra Davison, Sarah Boris, Sayako Sugawara, Tamsin Green, Tiffany Jones, Wendy Aldiss
What does sustainability mean for the photobook community?


How many books are being made? Does the printer have eco certifications? (B Corp, EMAS, FSC) And what do these mean? What chemicals are used in the printing process? Are plant and/ or water based inks available? What is the paper made of? Are these materials sustainably sourced? What is the paper size? Can the book size be optimised to minimise waste? Are there plant based glues available? What is the intended design life of the book? Are the materials recyclable? Can the paper be de-inked for recycling? If plates are used in the printing process, can they be recycled/ re-used? Can the use of single-use plastic be minimised or avoided?
TALKS
Archive
THE PHOTOBOOK ECOSYSTEM: Searching for Sustainable Approaches
(26 April 2022)
Watch the Recording / Read the Summary
MEET-UPS
A roughly monthly, mostly online meet up where we have open discussions, and sometimes we invite speakers. Sign-up via eventbite at the links below:

SUMMER BREAK - We will be back in September
28 June 2022 - 6.30pm BST ONLINE: with guest Sarah Boris, designer
25 May 2022 - 6.30pm BST ONLINE: with guest Matt Ford, GF Smith
APRIL BREAK - Join THE PHOTOBOOK ECOSYSTEM talk
23 March 2022 - 7pm GMT ONLINE: with guest Eliza Kavanagh, Publishers Association
23 February 2022 - 7pm GMT ONLINE: with guest Paul Hewitt, Generation Press
12 January 2022 - 7pm ONLINE: with guest Hannah Fletcher, The Sustainable Darkroom
16 November 2021 - 7pm: The Photobook Cafe, 4 Leonard Circus, London EC2A 4DQ
1 November 2021 - 7pm ONLINE
27 September 2021 - 6.30pm: ONLINE
23 August 2021 - 6.30pm: ONLINE
26 July 2021 - 6.30pm: The Photobook Cafe, 4 Leonard Circus, London EC2A 4DQ