This print edition re-uses materials, prints and test prints from the exhibition SCALE & SUBSTANCE: Photofusion Gallery (18.03 - 22.04.2022).
Each edition includes a signed copy of the book along with an archival pigment print (signed en verso). The prints are all unique and are a mix of photographs and archival drawings, exhibited flat as part of the exhibition.
£97
Print Edition*
Edition of 16
32 x 22cm
Archival pigment print on Hahnemühle bamboo paper 24 x 16 cm (image size 23x15cm) housed in a custom printed folder (30x20cm), risograph printed on 100% recycled card.
Fabric pouch handmade from archival map support cotton offcuts, embellished with unique paper prints.
*Full details at the bottom of this page.
Published in March 2022

56pp, 8 images, 300x105mm
Concertina book with soft cover
Risograph print on 8 different papers: 50% recycled
Exhibition
The large scale prints for SCALE & SUBSTANCE exhibition were made by Metro Imaging in London, using a UV curing process for the ink which makes them waterproof and highly durable. Tamsin sourced the cotton fabric from the bookbinding manufacturer and supplier, J.Hewit & Sons. The prints can be rolled up into cardboard tubes for transportation and storage, and any creases can be ironed out for installation.
The fabric offcuts from these prints have been used to create the sleeves for our print edition of the book. The sleeves have two pockets, one for the book, and one for the custom print folder.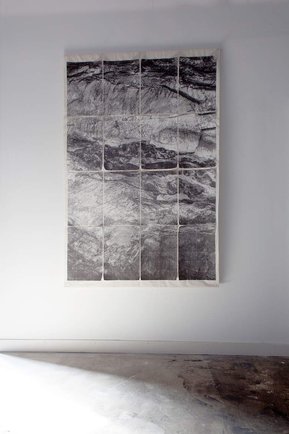 One of the works in SCALE & SUBSTANCE exhibition was outcrop (2019) - Dissected pigment print on paper, mounted on map support cotton (2022).
During the process of making this piece Tamsin made test prints to check scale and tone. These test prints have been dissected and sewn onto the fabric sleeves of our upcoming print edition, making each one unique.
The edition has been made with the following principles in mind: Minimise waste and the use of harmful materials, make locally, prioritise recycling.
Paper
The exhibition prints were printed on bamboo paper. Bamboo requires minimal maintenance, grows quickly and doesn't need any pesticide.
Hahnemühle: Bamboo paper, 290gsm - 90% bamboo and 10% cotton fibre
Awagami: Bamboo paper, 170gsm - 70% bamboo and 30% recycled pulp paper
Fenner: Colorset 270gsm - 100% recycled, FSC certified


Fabric
J. Hewit & Sons: Archival Map Support Cotton. A 100% cotton, principally made to support valuable documents and maps printed on paper. 119gsm natural unbleached cotton fabric.
Printing
Print Folder: Risograph printed using plant based inks by Duplikat Press - A small local printer 1.5 miles from the studio space where the books are made and stored. The prints were delivered by bicycle on the printers lunch break.
Exhibition Prints: Final prints were ink-jet printed on a Canon ipf8400 in house at Photofusion Gallery where they where exhibited.
Test Prints: Test prints were ink-jet printed in my studio on a Canon Pixma Pro-1 (2014).
Packaging
Plastic free biodegradable packaging.
Book wrap: FSC certified, recyclable cardboard.