The Photobook Ecosystem
Searching for Sustainable Approaches
SPP Network and 10X10 Photobooks hosted an online conversation on 26 April 2022 discussing sustainability in relation to the photobook at each stage of its design, making, distribution, display and consumption. The full recording of the talk is available here.
Below is a summary of this discussion and a series of case studies looking at how each of the participants have thought about sustainability within their own practice.
Edited by Tamsin Green
Panelists
Lewis Chaplin (Loose Joints)
Catriona Gourlay (NAL, V&A)
Paul John (Jan van Eyck Academie, Endless Editions)
Tamsin Green (manual.editions, SPP Network)
Moderated by

Amelie Schuele (FOAM)
Daria Tuminas (FOTODOK)
Supported by
Westminster University (Green Fund)
RPS Documentary Group
The Photobook Cycle
I. Printing
II. Materials
III. Distribution
IV. Collection & Display
V. Community
VI. Accountability
Case Studies
A: Bruises - Samara Scott (Loose Joints: 2017)
B: Recorder - Miranda Lichtenstein (Loose Joints: 2021)
C: Scale & Substance - Tamsin Green (MNL: 2022)
D: Shrink Wrap
E: Life after Plastics - Vitra Design Museum (V&A: 2022)
F: Brooklyn Art Book Fair (2017 - )
"I always physically go and oversee our books being produced and you are witnessing before your very eyes a significant amount of paper being used and trashed. This is because an offset printing machine in order to get up to the number of revolutions and have the plates distributing the ink onto the rollers and onto the paper in a sufficient way, you have to run the thing. You can't just press the button, sheet comes out, you're ready to go. Obviously any responsible printer has a very efficient supply chain of that stuff being immediately recycled and going back into becoming other paper. All of the printers that we work with use soy, water based inks. Oil based ink, despite having a kind of allure that's quite seductive to photography especially, is not a good idea at all. If you are working at a smaller scale, digital is a very important and interesting idea. Over the last 15 years or so the quality of digital printing has started to catch up in a way where on certain publications or certain types of imagery, at least speaking about photography, the quality can be kind of indistinguishable." Lewis Chaplin, Loose Joints

"The risograph was developed as an alternative to offset printing. It was meant to be a way for mid-size corporations to not necessarily have less of a global impact, but have an economic impact where you could achieve this quality of printing and run 1,000 to 10,000 copies... Also, you were making a much smaller footprint by using the stencil technology [as an alternative to metal plates used in offset printing] which makes one plate for one color and you run it as many times. It's the same as CMYK processes. Risograph, since about the 1980s, switched from oil based inks to soy based, and then recently to rice bran. So they've always been conscientious of what kind of inks they're using." Paul John, Endless Editions, Brooklyn Art Book Fair, Jan Van Eyck Academy
"Through the spp network we have been looking into different types of papers with different kinds of content. For example there's a lot of papers out there which are not using trees. There's papers made from algae, elephant dung, all kinds of fast growing plants like bamboo and hemp... I think it gets exciting when you can find the right subject of a book to match with the right paper... But there's always trade offs. Is it better to use a recycled paper that's made in Europe and imported to England, or is it better to use an FSC certified virgin-fibre paper that was made in the UK? I don't have the answers to these questions, but through talking with different people in the supply chain we are starting to have rich conversations around how to create these trade offs." Tamsin Green, manual.editions

"Here at the Jan Van Eyck Academy it's almost like living in a fairy land because we have a nature and materials research lab where they have already developed alternative materials. There's a future materials bank that was produced here with two artists. So there's already this investigation into what we are using and what alternative biodegradable materials might replace these harmful plastics, or how can we better use what we have at hand here." Paul John, Endless Editions, Brooklyn Art Book Fair, Jan Van Eyck Academy
"We collect contemporary books, but we also have everything going right back to medieval manuscripts. Often the fragility of books through that period is not a linear thing. With the medieval manuscripts a lot of them are on parchment which is quite a durable material in itself. The 19th Century publications on the other hand are printed on quite cheap paper that goes brittle and cracks after a while... A lot of the recycled materials have a shorter lifespan because they often have unknown content. But I don't think that should necessarily put museums off acquiring them. I think that we might just have to come to accept that sustainable materials are the aesthetic of this moment. Just as I talked about the 19th Century books being more fragile than the Medieval manuscripts on parchment. It's not necessarily that materials have got better and better and lasted longer and longer over time." Catriona Gourlay, NAL, V&A
"In the back of every single book that we make is the information of every paper we use, the binder, the printer, the typefaces, literally the ingredients and recipe of how you could make that book again. Information that people can reference, learn and understand from. Because I always found it very cynical that most publishers guard and keep all of this information to themselves as if it isn't useful to help share knowledge about how people make stuff or where they do things." Lewis Chaplin, Loose Joints
(manual.editions: 2022)
Materials and Processes
Small handmade edition of 120 soft-cover concertina books. Risograph printed locally on recycled and FSC certified paper stock using plant based inks:
Fenner: Colorset & Echo
GF Smith: Colourplan
Claire Fontaine: Standard colour paper
Printed by Duplikat Press, London
Challenges/Learning

Minimised paper waste through trimming by using a standard A3 size paper. This necessitated careful transportation of the printed pages as the full sheets were used in the final book. Transportation distances were minimised by working with a printer 1.5 miles from where the books were assembled, bound and distributed
The concept of the book was the creation of a 'greyscale' through 8 different shades of grey paper. Sourcing these was a challenge and the best that could be done with the printers supply chain was 100% recycled material for half of the paper stock, all others are FSC certified

A bioplastic was used for the wrapping of the book, certified for home compost. Through this talk I realised that I need to add a sticker to indicate how the material should be handled after use
Image © manual.editions
"I think it's interesting now that we are coming out of this pandemic moment to think about where the books are actually purchased. What's the point of sale? Lots of publishers like us actually had a pretty bumper year with COVID because suddenly a huge amount of our sales went to online, which means we get all the money, great. We get one hundred percent of the sale when we sell a book. However, what is the environmental impact of us sending individually 20 orders to people in New York who might otherwise have bought those 20 books from Dashwood or from Mast or from Printed Matter? In which case those books would have gone in one box through one supply chain, one set of warehouses and distribution hubs. I'm very keen at this point now to really encourage a move back to bookshops. We try and offer really preferential terms to bookshops to try and encourage them to have more of our stuff, to have free shipping, good rates. To really make people actually go back to that mode." Lewis Chaplin, Loose Joints

"Having made the decision to make small editions of my books I'm exploring different ways of sharing them with an audience. One copy of each of the books that I publish is available to borrow through my own online library, and I'm also actively seeking to place these books in physical public libraries where they can reach a wider audience." Tamsin Green, manual.editions
"In publishing and thinking about distribution most of our books were under a run of 200. Most of our distribution was direct through book fairs, traveling to them, and also carrying these books around. Through that experience we reflected on doing book fairs and what the impact of it was. From there we decided to develop a very strange and different type of book fair. A fair that didn't ask vendors to pay to be a part of it but would rather compensate vendors in case they didn't earn a certain income. A fair that would guarantee an income for these participants valuing a different type of labor. That's also what Endless Editions was meant to do, to illuminate this process of what a book involves, how much paper is used, how much time is involved in the production of it, and how much care is required." Paul John, Endless Editions, Brooklyn Art Book Fair, Jan Van Eyck Academy
can we and should we eliminate single-use plastic in the wrapping of books? should we use a bioplastic alternative? or paper? or something else? if we do use a bioplastic how will people know what to do with it?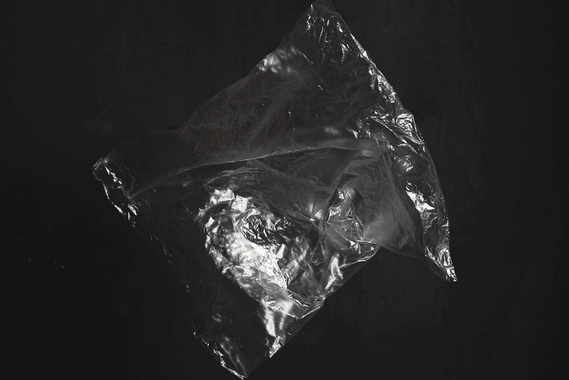 Case Study D: Shrink Wrap
In the Talk Q&A there was a heated discussion about the use of shrink wrap and bioplastic alternatives for wrapping books so we have picked this up and added a few further thoughts...
Challenges/Learnings
Many books are wrapped by the printers/ binders prior to shipping to the publishers/ distributors. Some are offering bioplastic alternatives to single-use plastics, and some of these products are certified to 'OK compost' and EN 13432 standards
Some bookshops and distributors require books to be plastic shrink wrapped for protection and will not accept bioplastic or other material alternatives
Compostable bioplastics placed in a home compost environment are not breaking down even after several years
'Compostable' could mean industrially or in a home compost environment - This information needs to be communicated to the consumer to help them manage the bioplastic at end of life according to the certification.
Certifications
TUV Austria : The EU bioplastic OK certifications are granted for compostable, biodegradable and biobased products. They indicate whether a product is home or industrially biodegradable or compostable. 'OK HOME compostable' means something will break down within 1 year in a home compost environment.
EN 13432: The EU certification tests compostability through industrial processes. It does not test products for home compostability.
Alternative Materials
Check out our RESOURCE LIST under PACKAGING for suggestions of alternatives to single-use plastic.
"When any book enters the collection it'll be cataloged on the library system and placed in storage. Once it's on the library catalog the book can then be requested by the public to view in the National Art Library reading rooms… Being a library within a museum means that our books are also shared through museum exhibitions and displays as well as loans to other institutions. This of course means that our collections can be seen by huge audiences across the world. But this level of activity also means that we incur an environmental impact. Our increased carbon footprint for one; traveling objects and their mounts, traveling staff. Sometimes we send curators to oversee the installation of objects although that has reduced since the pandemic. We now do a lot of online installation appointments over video call… But I think it is something that needs to be discussed with other institutions that are similar, but not the same as us, so smaller institutions and other types of libraries. Talking about issues like lending objects is one of the main areas where we could make a lot of progress and it needs a big push to make it happen." Catriona Gourlay, NAL, V&A
"I've been thinking a lot about the by-products of my own book making practice and how different parts of the process can be reused in other forms. For a recent exhibition I reused the print proof copies of two of my books, elements of the process that would typically be discarded. By remaking these books into wall-mounted sculptures they could have a kind of second life. In doing this I also wanted to expose the material properties of paper. Letting the printed pages respond to their environment through curling, creasing." Tamsin Green, manual.editions
"One issue that we have struggled with for a long time is the display of books. To display books in museums we create bespoke cradles on which to place the books while they are in display cases. This is because books are quite complicated objects so they have to be supported. The cradles that we use to support them have to be bespoke and made to fit. But unfortunately one of the materials that is most commonly used in museum cradles is perspex… I think one of the draws of the perspex cradles and why so many museums use them is that the aesthetic of them doesn't interfere too much with the aesthetic of the display. You can use them for lots of different thematic displays and they don't interfere too much with the design. However for a recent V&A touring exhibition, life after plastic, there was a big push to create mounts that were made of materials other than plastic for displaying the objects." Catriona Gourlay, NAL, V&A
Case Study E: Life after Plastics - Vitra Design Museum

(V&A: 2022)
Materials and processes
A book display cradle developed as an alternative to travelling perspex cradles for the exhibition Life after Plastics, at The Vitra Design Museum, Weil am Rhein, 26 March – 4 September 2022
Made from recycled mount board
Covered in textile using EVA glue
Challenges / Learning / Next steps
Making the mountboard cradles durable for transportation meant covering them in a coated textile, which was not recycled and is not recyclable
The glue required to attach the textile to the board had to be an EVA glue, which is the conservation equivalent of PVA glue. The starch paste that would have been a more sustainable option was not strong enough to hold the textile to the board
3D printing could allow for cradles to be made in a more environmentally friendly way in future. Reducing transportation by printing the cradles in the location where the books are being displayed
The conventions around displaying books and the idea of books being displayed as if they're almost floating within a display case is something that we need to reframe and re-think to address sustainability
Image © Victoria & Albert Museum, London
V. What is the role of community?
"For me community is everything. I really like how Tamsin spoke about her practice and this idea of small and smallness. There was a really great essay by David Josselit and Enzo Camacho, In Praise of the Small. I think as we develop community, we find the people that fulfill the role of globalization in the spreading of knowledge. I think the internet also helps with that. But at least for me, I feel like I was more interested in between small and big... Brian Lamotte also talks about this kind of DIY Zine culture which I'm more affiliated with. I should say that I'm not a commercial publisher, but it is an ethos. It's this idea that we can keep this together and we can share this together and together is always better. Maybe that's why I find people in the risograph community so much more endearing than the rest of the art world because we all have this shared misery, or the shared suffering of running these machines and operating them and collating pages. We see all of the labor that goes into making a book and working with the artists. So we are not competitive against each other. We are more willing to share and support each other. This is evidenced in these small communities. We used to have a Slack group and now there's a Discord group and there are many Facebook groups where people from all over the world, all skill levels, all levels of career, communicate their fears, frustrations, questions, desires, and there's this resource there." Paul John, Endless Editions, Brooklyn Art Book Fair, Jan Van Eyke Academy

"For me the role of this community is really about being curious and finding answers to things that aren't necessarily out there and easy to find. Together learning and sharing as we're going and being really open about what we don't know, what we want to know and how we can help each other along. I think especially with ecological sustainability there's a strong need to share locally. What might be the best paper or the best printers to print a certain type of work here in London wouldn't be the same as somewhere else in Europe or somewhere else in the world. So there's very much a need to share these kind of resources locally, but then there's also a lot about the conversations which are global and common to everybody. So I think it's important to also have a more connected and wider network which talks about how these subjects or threads connect us all together. " Tamsin Green, manual.editions
"My involvement or engagement with book making comes originally from a place of Zine making and DIY stuff and organizing book fairs in London. That being the center point of where I discovered an interest and where Sarah and I joined to begin making projects together as Loose Joints. So the need to share is obviously inherent with being a publisher... Where I'm sitting right now, over there is a partition wall and anybody can walk into effectively our office, four days a week and start asking questions. And they do. This is also a city where the familiarity with independent and photography publishing is not maybe there, we're the first place really doing this. So you actually have a lot of very interesting conversations with people about the nuts and bolts of how we produce these things. I'm obviously also deeply excited about book fairs happening again. These are meeting points and coming together points, not just for the public seeing what we do, but for other publishers to exchange what's going on. Because a lot of stuff is happening at the moment." Lewis Chaplin, Loose Joints
"There are sustainability reps from departments across the museum who meet regularly, not just to discuss things like exhibitions and loans, but to discuss wider issues like how to deal with waste from the cafe, where we source prints from in the museum shop... But then there are more informal groups as well. Our book conservators for example speak to book conservators in other institutions... But speaking to artists is a really interesting one as well and something that we could perhaps do more of. Often it's the smaller informal groups that are the most exciting. They are what Tamsin and Paul were talking about, these safe spaces to talk about the issues and to be open about the complexities of the subject and the compromises that we're having to make in balancing the quality and longevity of the books that we make with what we can achieve in the museum in terms of output, whilst still keeping to sustainable standards." Catriona Gourlay, NAL, V&A
New York (2017-)
BKABF started as a "what-if" and has become an inspiration that a book fair can support its vendors, rather than burdening them with the costs of production. The fair first began in 2017 with a desire to make the artworld more accessible by providing free tables to all vendors and redistributing surplus fundraising to those who need it most. The fair has created non-competitive spaces for independent publishers and artists to flourish, while also providing much needed support in a field that is not necessarily lucrative.
Details:
Creating a community and distribution opportunities for those who didn't have them:
40 or 45 vendors
No fee to participate
Fee given to publishers who made less than $200 - 300 to pay for their transportation and costs of participating
Questions/Learning
How do we keep it impactful to the vendors without having it become too overwhelming for the public? How do we make our effort have as large an impact as possible for as many people as possible?
The number of participants was restricted for each fair, and the intention was never to grow to hundreds of publishers
Fees were given for participation in the fair as a way of valuing different forms of labour within the community
Image © Daniel Wang
"Sustainability is not only about our ecological impact, but it's about creating opportunities for people who don't have voices in this current environment and empowering them in a way that might allow them to have these privileged positions where we can think about these very challenging questions. But until we're at that point, we have to do the best that we can... " Paul John, Endless Editions, Brooklyn Art Book Fair, Jan Van Eyck Academy
VI. Accountability - Should a book be an orange?
"It is very important that publishing feels accessible to all. We are at a place where we've been able to develop our business and think about these things now and reflect on them. We certainly weren't when we were just desperate to make books of all of the artists whose work we thought was fundamentally important to have out in the world. You don't want to create a kind of barrier by saying there's a level of sustainability or a level of commitment or disclosure that needs to be necessary about the material objects that you produce and ship because for a future generation of would be publishers, self-publishers, designers, these sorts of things could also come across as effectively being a form of gate keeping... I would love to be able to have more accountability on my end in terms of when people do ask me, and it doesn't happen very often." Lewis Chaplin, Loose Joints

"Everyone doing a bit is better than a couple of people doing everything really perfectly. The spp network have assembled a resource list of papers and printers, which is open source. We share case studies of photobooks to encourage transparency about how books are made. These detail the materials and processes used and more importantly they highlight questions or elements that we would do differently next time. We also have an online meet-up about once a month where we have open discussions and we invite speakers from different sectors of the photobook sphere. Past speakers have included Hannah Fletcher from the Sustainable Darkroom Project, Paul Hewit from the B-Corp certified Generation Press printers and Eliza Kavangha from the Publishers Association. Eliza talked to us about a carbon calculator that they're developing for books. We are also organizing events like this, which we co-organized with 10x10 Photobooks where we are seeking to create discussion and openess with a much broader audience. " Tamsin Green, manual.editions